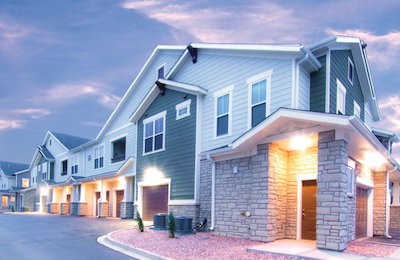 Finding a career path that will put you on track to your best life can be challenging and time consuming. Choosing a company and a role that you have experience in are crucial aspects when navigating your way through the professional world. On top of that, landing a job with a reasonable commute can add to the challenge. The Verso team gathered information about leading employers close to our community in order to give our residents the best career options Florida has to offer. Check out our list of top employers in the Davenport area!

Lockheed Martin
A 28 minute drive from the Verso community, Lockheed Martin is a global security and aerospace company that employs approximately 105,000 people worldwide and is principally engaged in the research, design, development, manufacture, integration, and sustainment of advanced technology systems, products and services. The company offers a wide variety of benefits and amenities to help employees live flexible, healthy, fulfilling lives at and outside of work as well as fostering a work environment that encourages big-picture thinking.


Bank of America
The Bank of America Corporation is an American multinational investment bank and financial services company just 17 minutes away from Verso. The company was recognized as one of "100 Best Companies to Work For" by Fortune magazine and the global consulting firm, Great Place to Work®.




AdventHealth Heart of Florida
AdventHealth Heart of Florida in Davenport is a 15 minute drive from Verso Luxury Apartments and is rated as high performing in adult procedures and conditions. Employees at AdventHealth Heart of Florida, formerly Heart of Florida Regional Medical Center, share a common passion: to help others heal. At AdventHealth Heart of Florida, it's more than a job. It's an opportunity to help others heal, grow and strengthen their bodies, minds and spirits.




AdventHealth Celebration Hospital
A 15 minute drive from Verso, AdventHealth Celebration is an acute care hospital, in Celebration, Florida. The hospital is part of the eight-unit AdventHealth Florida network, which itself is part of a network of 17 hospitals. Through working for AdventHealth you will serve not just the Greater Orlando region, but communities across the state.



Celebration Family Care
A short 15 minutes from the Verso community, Celebration Family Care is an experienced team led by a board-certified primary care pediatrician offering general primary and preventive health services to newborns and upwards. The company offers competitive pay and benefits and a playful, supportive work environment.




Florida Polytechnic University
Florida Polytechnic University is a public university located 22 minutes from the Verso in Lakeland, Florida. Created as an independent university in 2012, it is the newest of the 12 institutions in the State University System of Florida. The university is committed to providing equal employment opportunities for all faculty, staff, and applicants, including those with disabilities.



Osceola and Polk Schools:
Both Osceola and Polk county schools are award-winning school districts encompassing more than 200 schools throughout the state of Florida and are easily accessible from the Verso community.
Osceola County schools offer competitive salaries and benefits as well as continuous training and education within a teamwork environment that includes friendly staff and students.

Polk County schools offer one of the highest beginning teacher salaries in the state and a generous benefits package.
Select Florida resorts and theme parks:
There are so many magical theme parks in and around the Orlando area that offer something for every age, taste, and vacation-style.
Omni Orlando Resort at ChampionsGate

A luxury brand that puts soul in hospitality every day and is just 8 minutes away from Verso Apartments. The needs of guests, associates and owners are at the forefront in order to create unique memorable experiences.

Reunion Resort

A 10 minute drive from Verso, experience a vibrant and diverse work environment where entrepreneurship and innovation are encouraged. Reunion Resort offers various benefits to their team members.

Walt Disney World Resort

Turn your career path into an incredible journey at Walt Disney World Resort.


The Grand Orlando Resort at Celebration

Start your career in the hospitality industry with an 8 minute commute at one of the world's leading hotel management companies with a robust portfolio of leading hotel brands and USA TODAY 10 Best Readers' Choice Awards, "Best Hotel Rewards Program.

SeaWorld Orlando

SeaWorld Parks & Entertainment ambassadors create inspiring memories that last a lifetime 20 minutes from the Verso community.





The Walt Disney World Casting Center
The Walt Disney World Casting Center located 20 minutes away, is the official office for employment and recruiting for the Walt Disney World Resort. This casting center offers great pay and the opportunity to curate special selections for beloved Disney parks.




Amazon
Just 14 minutes away, this local Davenport Amazon not only stores products but also serve as distribution centers where associates pick, pack, and ship orders quickly and efficiently. Employees

receive benefits, including life and disability insurance, dental and vision insurance with premiums paid in full by Amazon.
FedEx
FedEx Corporation is an American multinational courier delivery services company located 13 minutes away from Verso with locations all over including Davenport, Florida. FedEx offers a group benefit program where monthly premiums are 100% paid by the company, tuition reimbursement, paid time off, holiday pay, work-life balance.


Select grocery stores:
The employee-owned supermarket chain is a 3 minute leisurely walk from Verso. Publix offers an array of benefits to help associates obtain health care, further their education, save for retirement, and enjoy discounts on numerous products and services.

A 20 minute drive, Walmart is investing in its associates by offering competitive pay, advanced training through Walmart Academies, career development through Pathways training program and, most of all, a chance to move up in the company..
Orlando Entertainment
Orlando Entertainment in an Amusement and Recreation Services industry selling tickets and offering expertise in the recreation business 25 minutes from Verso Luxury Apartments.


Government, state and city employees:
If you live in the sunshine state then what could be better than working for your state? Some of the nearby government employer locations include:
Florida State

City of Davenport

Davenport Chamber members

Polk county

Verso Luxury Apartments is offering rewarding benefits and discounts to a select amount of organizations and businesses in the Davenport area!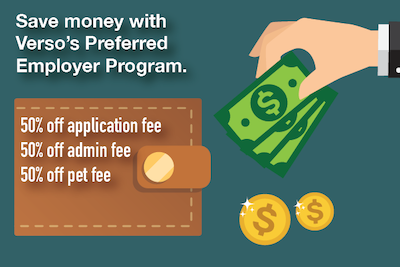 We value our relationships with the business community and hope to continue cultivating beneficial partnerships for our residents. Verso sets itself apart from other apartment communities by listening to our residents and consistently providing quality service and excellent living options with state-of-the-art amenities. To get a small taste of what Verso has to offer please read
10 Must Have Verso Perks and Amenities
.